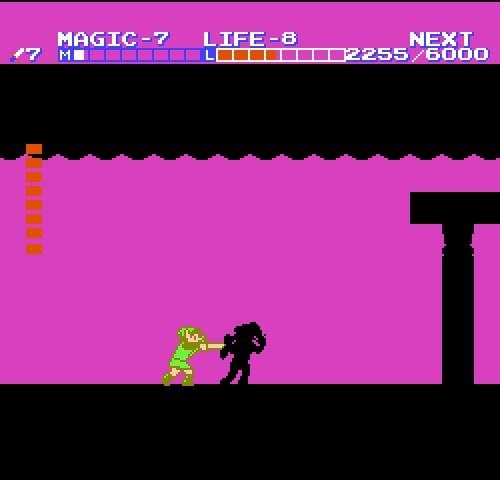 Link battles his shadow doppelganger in Zelda II
In JHarris's excellent post about Zelda II: The Adventure of Link, Mefi user otolith tells the story of how they finally beat the game, twenty years after giving up on it:
It was one of those games that was just too...frigging....hard. Along with Blaster Master and Castlevania II, it seemed stupidly impossible...I don't remember when, but there must have come a time when I punched the power button on the console in frustration and walked away from it for the last time. And then twenty years passed and I don't recall thinking about the game once in that time.

But a few years ago I was traveling and staying with a friend of mine who owned a game cube. There it was on his system, Zelda II...A wealth of small childhood memories that had been locked together with Zelda in the back of my brain. It was an utterly unique experience for me, reliving those memories sequentially as the game progressed. Which happened somewhat rapidly because I was now A BEAST at Zelda II....